Wedding, Portrait, & Landscape Photography in Sedona & Beyond
Best views near downtown Sedona

Professional photographer based in Sedona, AZ who specializes in wedding, portraits, and landscape photos.
Munds Wagon Trail head and Schnebly Hill Road
In Sedona, even if you aren't staying downtown, you will be passing through at some point.  Popular vistas like Devil's Bridge and Cathedral Rock require a 15 minute drive, 1+ hour hike, and some planning to be there at the right time.  Imagine if you could witness the best views near downtown Sedona by just driving 5 minutes and walking 50 feet to 360 degree views?
I'll explain why this area is a hidden gem and one of my most popular spots for family photography sessions.  Parking is usually easy and requires a red rock pass (you can purchase on site for $3) or a national parks pass and there is a bathroom on site, but pack out your trash.
History of the area
Schnebly Hill Road is often regarded as one of the toughest off road treks in Arizona, but there was a time when this was the easiest way to get to Flagstaff from Sedona. The original road was more like a trail, built by Jim Munds and his family to drive cattle from the grazing areas of Sedona to the highlands around Flagstaff.
Later T.C. Schnebly, the founder of Sedona, would improve the trail to a road and it was used exclusively until a new road was built up Oak Creek Canyon which became the way to get to Flagstaff that is used today. After that, the road fell into ruins, and now it's a popular off road destination and a great area for hiking and scenic photography.
Natural wonders to photograph and explore
The parking lot for the Munds Wagon trail signifies the end of the paved road and is also a centerpiece for many trails and natural wonders to explore nearby. There are numerous caves, arches, and other unique geological features. The area is always filled with blooming wildflowers and agave and protected by bobcats and hawks.
The sandstone rock formations are caused by erosion into the sand that was once the bottom of a sea that submerged this entire area. The white rock towards the top of these towering peaks was the sand layer before the seas disappeared and you can often find fossils and shells in this layer. Many black volcanic rocks are strewn over the area from the volcanic eruptions in Flagstaff many years ago.
These are the best views near downtown Sedona
Photography and Hiking near Munds Wagon trail head
Can you keep a secret? These are the best views near downtown Sedona, with great photography and hiking, but it is not as busy or popular as many others. Parking is usually easy and most of the people who visit this area do it from the back of a pink jeep.
You can hike on the Margs Draw Trail and explore Snoopy Rock and desert flatland below. This is one of my favorite areas to explore and rock scramble and there are great spots to watch sunset. The Huckaby Trail starts toward the west and descends into Oak Creek Canyon, and if you go far enough you will end up at the creek where you can take a dip or fish for wild trout.
And finally, if you head to the west on the Munds Wagon Trail, you will ascend through Bear Wallow Canyon, surrounded by amazing rock formations and occasionally seasonal waterfalls. From this trail, you can complete the Hangover Loop (my favorite hike in Sedona) or get to Merry Go Round Rock (my favorite sunset spot in Sedona).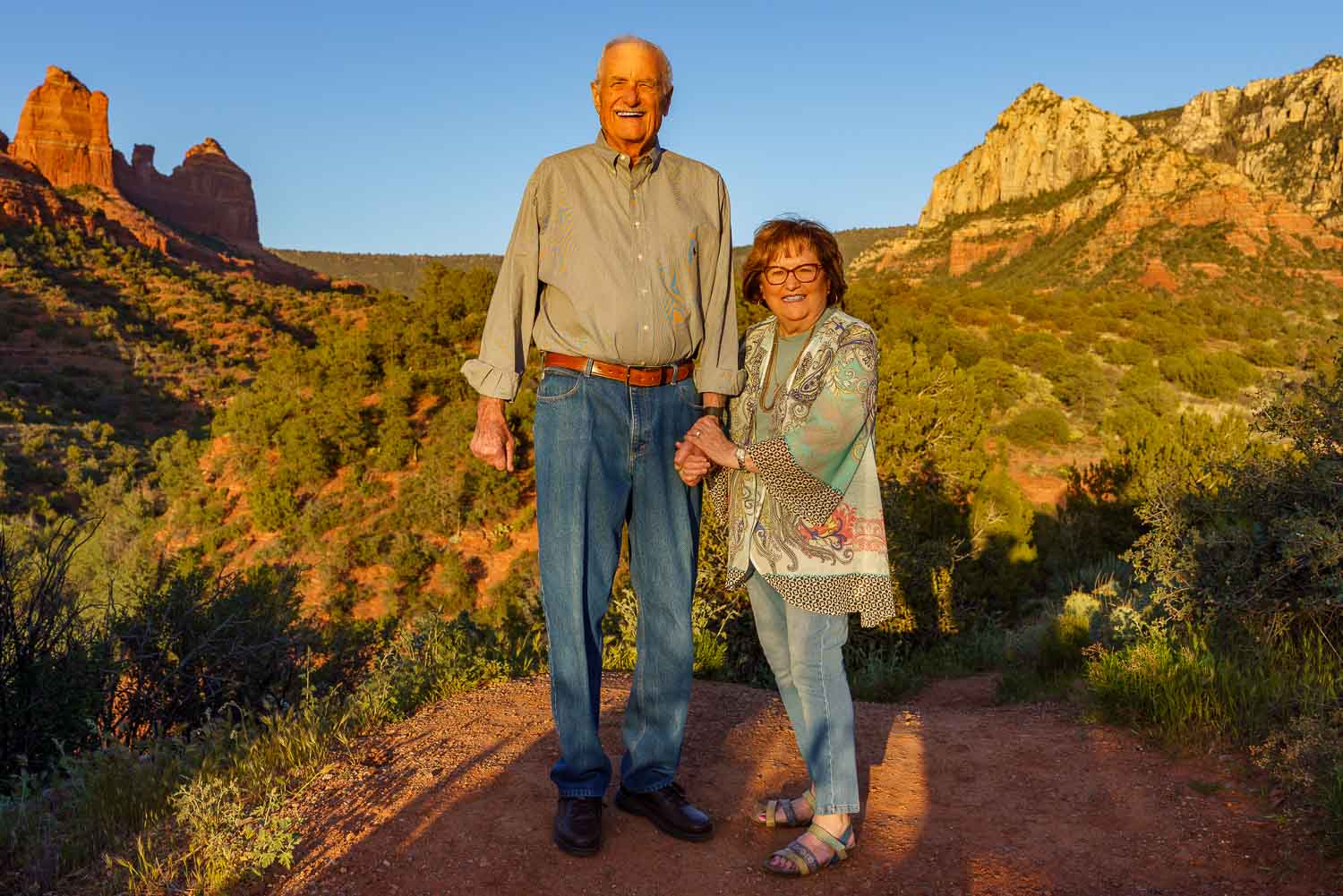 Where to take photos
I call this these the best views near downtown Sedona for a reason, and you don't have to hike or even walk far to get great shots. Only 50 feet from the parking lot are 360 degree views of this amazing red rock amphitheater. On the other hand, if you want to explore or hike there are thousands of places on and off trail with numerous angles to capture light.
Easy access for great photos
The area around the Margs Draw trail is one of my favorites to go off trail and get to a high point to capture amazing sunsets and find solitude in the process. All around the trail head are numerous overlooks, and all face different features… downtown, Thunder Mountain, Oak Creek Canyon, and of course the huge Bear Wallow Canyon that leads up to the top of the road and Merry Go Round Rock.
Take an adventure for epic photos
Merry Go Round Rock is one of the most dramatic places in Sedona. Sunsets there can be otherworldly and the nearby medicine wheels left by Native Americans create a spiritual feeling to the area. This rock is more like a mini peak that is surrounded by viewpoints and looks like (surprise) a merry go round.
Access here is difficult, you need a 4×4 to get up the treacherous parts of Schnebly Hill road (there are nearby rentals) or you have to hike 3 miles to get here and 3 miles back. But the views and different shots that you can get here make it worth it. I've hiked back in the dark many times after capturing sunset there and almost got washed away in a flash flood when a monsoon ripped this canyon apart with hail and rain one summer.
Schedule a photo shoot and have some fun
Go wild or mild and schedule a photo shoot to capture your moment in Sedona. There are many photographers in the area, but I am unique in that I combine studio and natural lighting. This brings out the best views near downtown Sedona but keeps you as the central focal point of your photo gallery. No matter what location you choose, or you choose to spend it with, I guarantee you will have fun!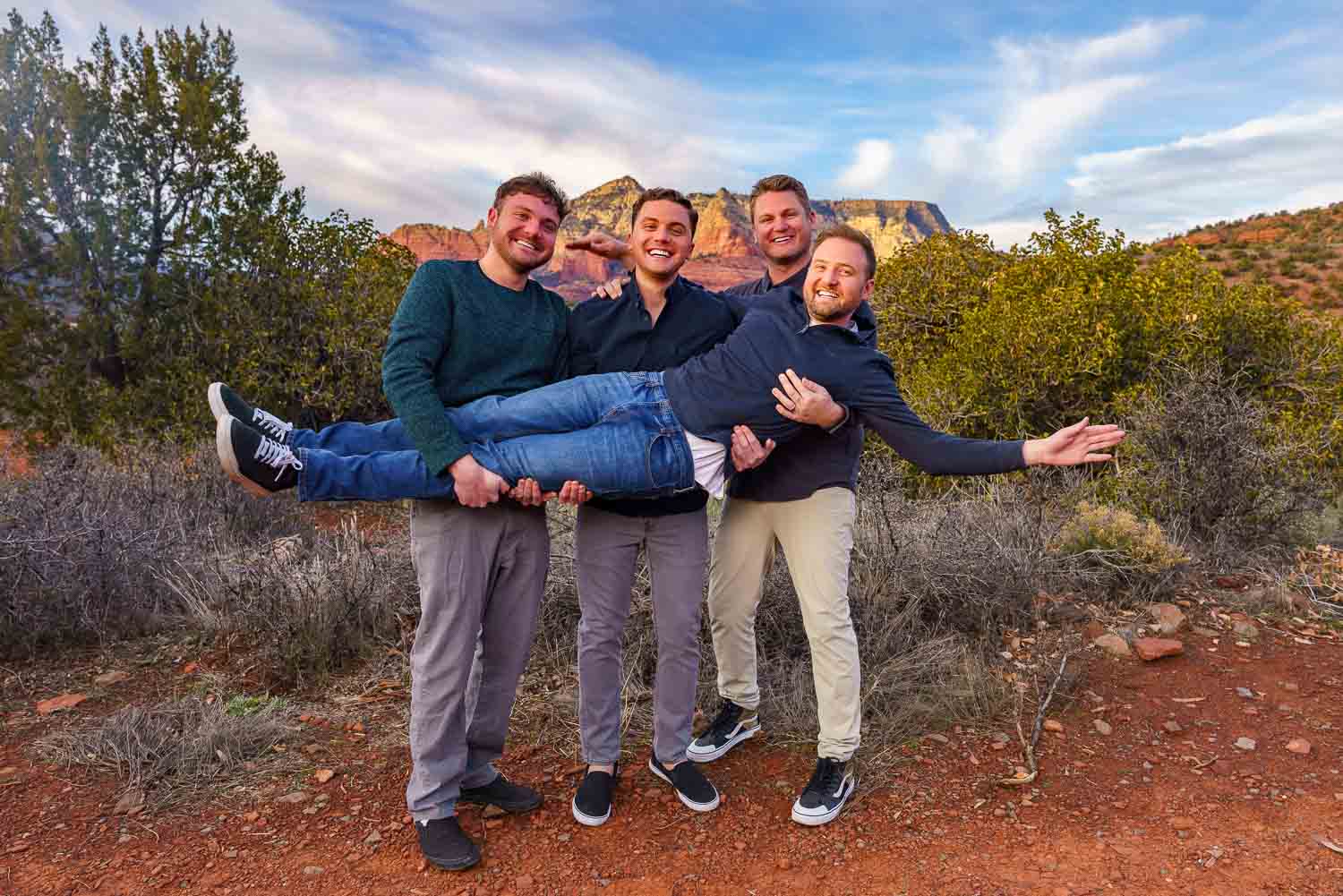 Check out my video on the Best views near downtown Sedona
Enjoy the area, and keep the secret
There are many reasons to come here and enjoy this area, but my favorites are the lack of crowds and easy access to some of the most beautiful parts of Sedona. It is just a few minutes from downtown, leashed pets are allowed, there is a bathroom at the parking area, and it is very important that you pack out your trash and leave no trace.
If you want to go big, do the Hangover loop and enjoy some of the best scenery you will see in the US. If you just want an easy place to watch sunset, park at the trail head and walk to one of the nearby overlooks. And if you want the most epic photo shoot of your lifetime, send me a message and we will get you on Merry Go Round rock or one of the easily accesible locations like the ones pictured below.
The huge red rock formations and high vistas above town make these the best views near downtown Sedona.  There are many other great places to experience Sedona and get some great photos as well, just check out some of my other pages.  I hope to see you out there!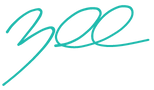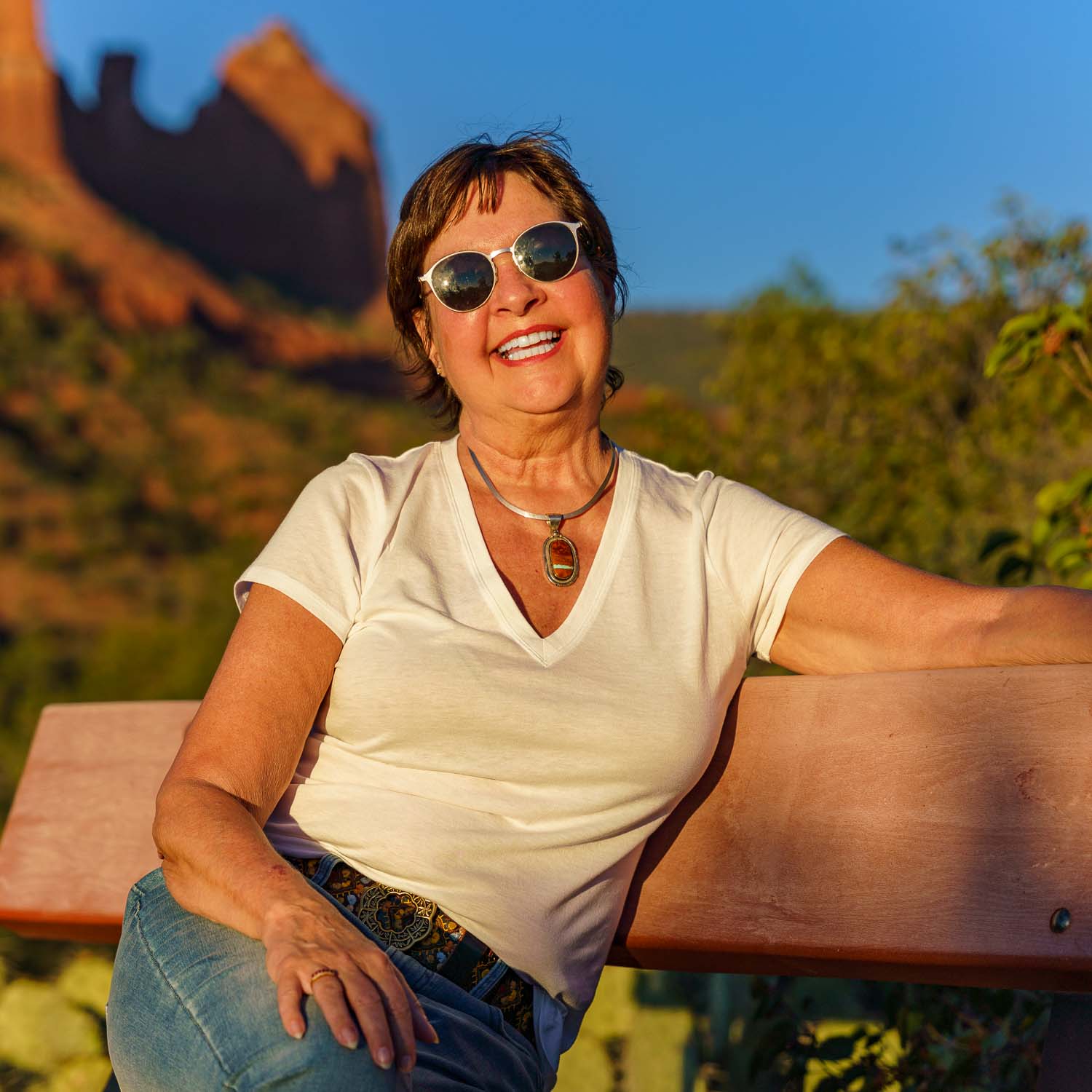 More views from Schnebly Hill & Munds Wagon Trailhead
What are you waiting for?
I know the best locations and times to shoot in Sedona and beyond
With a portable studio lighting setup we capture you and the scenery
One simple fee for the shoot, the editing, and your online gallery of photos
Most importantly, we have blast doing it and enjoy the moments we capture